Vit-A-Zine Cattle Mineral 
At Vit-A-Zine, our first concern is creating a totally balanced nutritional environment for cattle and other livestock on pasture and hay. To continue to achieve that status on highly fertilized fescue pasture meant that we had to radically change our basic nutritional format to allow for special nutrients which proved to be critical to the productive life of the animal. One such primary nutrient was magnesium. The magnesium level could become so acutely low within a 24-hour period as to cause the death of animals on the pasture.
Custom Services:
In addition to our complete line of products, Vit-A- Zine also offers custom services including:
Custom Mixes
Mineral Pre-Mix
Toll Milling
Custom Bagging
Do you want to raise flow and components in your dairy cows, Cattle Active can help.
Serving Cattlemen Since 1960
Located in Butler, Missouri, Vit-A-Zine was founded in 1960 by George B. Ross as an independently family-owned company. Today, we too are carrying forward the principles and goals that is the very foundation of Vit-A-Zine. We attribute our success in the feed business to the fact that we work directly with cattlemen and commercial dealers. As cattlemen ourselves, we know how to communicate with those who work with our products every day. We learn from those we serve, and listen to their concerns. By working directly with them, we have earned the confidence and trust of these hard-working cattlemen and dealers. Although we manufacture over a dozen different self-rationed pasture supplements, it is all based on a nutritional formula uniquely designed for pastures and that begins first with balanced nutrition.
Matt Briegel and Nathan Yoder
Co-Owners, Vit-A-Zine
Cattle Mineral
Vit-A-Zine carries a wide variety of cattle mineral and livestock feeds. We specialize mineral blends for the unique soil conditions that exist in your pasture. We will review your soil analysis and customize a mineral for what is lacking in your pasture.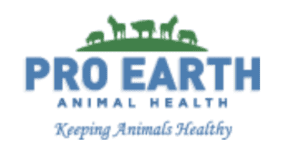 Pro Earth Animal Health
Boosts immune systems of both horse and cattle. Zesterra and Cattle Active
Learn More